Class Teacher – Miss Corner
---
---
Welcome Back!
Welcome back to school. I am looking forward to meeting you all and hearing about what you've been up to over the holidays.
---
Autumn 1 – Our Learning
6C have had a fantastic first couple of weeks back.
I have been amazed with everyone's positive attitude to learning, resilience and enthusiasm for being back at school.
This term our topic is Ancient Greece.
The children have thrown themselves into their learning and have enjoyed a hook day
where they learned about the Greek number system, Homer (a famous author of this era),
as well as some food tasting and constructing an
Ancient Greek musical instrument – a lyre.
In art we have been researching the famous artist
Barbara Hepworth

.
She was born in Wakefield, Yorkshire and is famous for her modern and unique sculptures.
This week, we have been researching her life and attempting to draw her sculptures using observational techniques and shading to add detail.
Look at the examples below to see what we have been up to.
Over the last two weeks of term Year 6 enthusiastically worked with different materials
and equipment to attempt to model sculptures inspired by Barbara Hepworth.
We used salt dough, playdough, soap and clay.
These are some examples of the work we produced.
Autumn Term 2 – Our Learning
6C have had yet another fantastic term of learning! This term our topic was Changing Climates in North America.
For DT, we used the knowledge we have acquired over the term to create 3D maps of North America with
LED circuits attached to them with the intent of showing capital cities, countries, land and water with the LEDs.
The following pictures show the steps taken to complete this task.
First, children had to design and draw their map onto cardboard before they experimented with circuits to see if they could get their LEDs to light up.
Then, children worked in their groups to use salt dough to create the mountains
before painting their 3D maps using an atlas to support their design.
Well done 6C, you all worked exceptionally hard in your groups!
---
SUMMER TERM ONE
Science
This term in Science our topic was 'Animals Including Humans: The Human Body'.
The children were given a variety of opportunities to take part in hands on experiments to understand more about how our body works.
One experiment involved children further exploring and understanding how the digestive system works.
Look at the images below to see what we have been up to.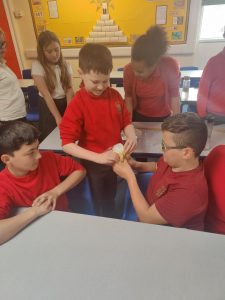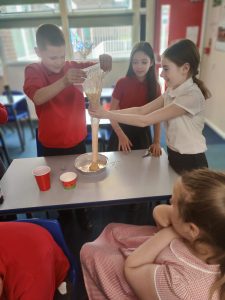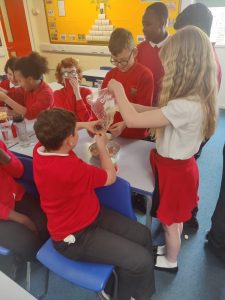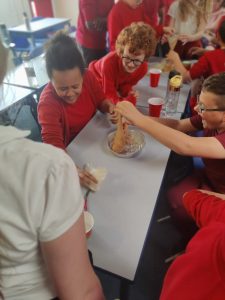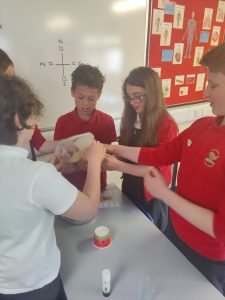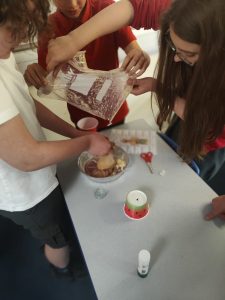 ---
DT – Design and Make an OUTDOOR SHELTER
This term in DT our topic was 'Earthquakes: Strengthening a Structure'.
The children were tasked with using a variety of materials such as spaghetti, marshmallows and natural resources
to create structures that could withstand an earthquake and other natural elements.
We investigated in the classroom first, then made mini-structures in the woodland.
The final challenge was to make a full-size shelter in our Wildlife Area, large enough to shelter 2 or 3 people.
Look at the images below to see what we have been up to.